News
By Benjamin Upson
Futures League fans, it's hard to believe it but we have reached the regular season finale! The season kicked off back on May 26 and from there we hit the ground running with a 64-game schedule that saw some incredible matchups and fantastic competition across the board.
Now it's time to gear up for the playoffs as teams will have one more day of work to prepare for battle, including two teams in their own battle on the final day. It all comes down to this as the playoff chase will be decided today between the Westfield Starfires and Norwich Sea Unicorns.
To say the least, it's been a tough couple of days coming in for Westfield. At one point this week, there were discussions if they could chase Nashua for the No. 3 seed. Now, they're just fighting to get into the playoffs a few days later. The Starfires have surrendered 29 runs over the past three games combined, including a pair of losses to Brockton and Pittsfield, two of the bottom three teams in the league. Saturday was better from an offensive standpoint, but it resulted in a 10-7 loss to New Britain as their pitching could not hold up. Losing star first baseman/catcher Jackson Hornung (Skidmore) has not aided their lineup either as he brings pure offensive firepower to every game. Westfield will have their hands full in another go-around with the Bees on Sunday. The path is fairly simple again: they just need to win OR have Norwich lose. But this is the third day in a row with that same scenario for the Starfires, and it's been all but simple, and now a mountain of pressure is facing them today.
It's been more of a consistent week for Norwich. A member of the July Team of the Month, Bryan Albee (Eastern Connecticut State) pitched another stellar outing against Nashua on Friday to keep the Sea Unicorns alive. He tossed seven innings of one-run ball, with just five hits allowed, a walk and three strikeouts. In four outings this season, Albee sports a 4-0 record and 2.00 ERA after joining the Sea Unicorns midway through the season and immediately breaking onto the scene. The success continued going into the weekend as Nick Sturino (Fairfield) and Andrew Bianco (New Haven) each recorded four-RBI games in a 15-2, run-rule victory at Worcester on Saturday. Norwich may be 2-3 on the week, but they've been scrappy and fighting hard to stay in it. They're getting there and somehow, someway will have a chance to get into the 2022 playoffs with a win AND a Westfield loss today.
Saturday brought us one of the craziest nights of individual offense that the league has seen in a long time. The player of the night race was so intense that there were co-player awards given out for the first time since at least 2019! First up, Nashua's Will MacLean (UMass) went 3-for-5, with three runs scored, two home runs and five RBI. Vermont's Brian Schaub (Trinity (Texas]) did his best to match that with a 2-for-4 night, a double, two runs scored, and a three-run, walk-off home run in the bottom of the ninth inning to win the game. You have to admit it's pretty hard to pick just one player out of that!
As we have documented, the New Britain Bees and Nashua Silver Knights have locked up their respective playoff spots, joining the Vermont Lake Monsters. The Westfield Starfires still maintain their edge for that final playoff spot, but the Norwich Sea Unicorns all of a sudden are right on their tails. Westfield had a chance to clinch a playoff spot as early as Thursday, and now it all comes down to the finale, making for one crazy Sunday in the Futures League!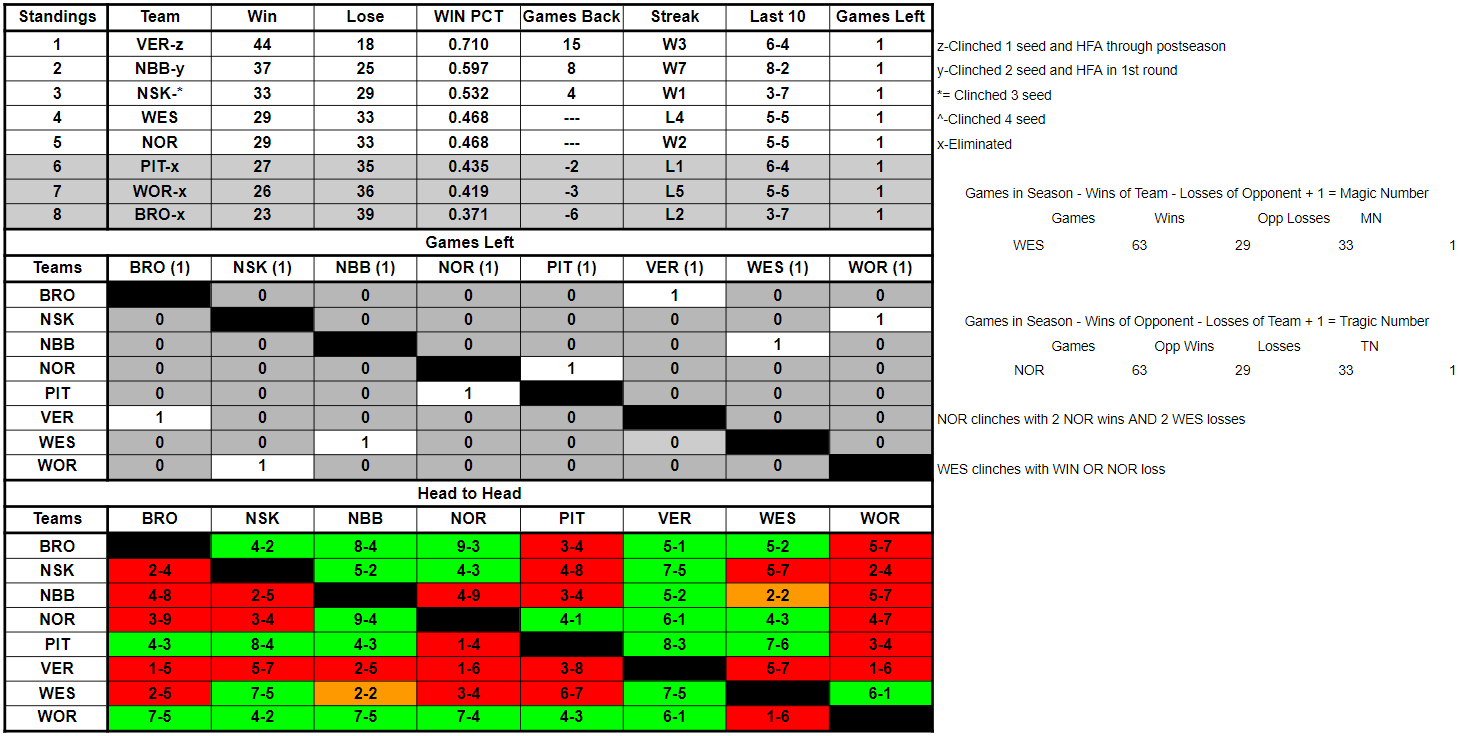 Sunday's Game Schedule
Vermont (44-18) at Brockton (23-39) 1:30PM
Worcester (26-36) at Nashua (33-29) 3:00PM
New Britain (37-25) at Westfield (29-33) 3:00PM
Norwich (29-33) at Pittsfield (27-35) 4:05PM
For the latest scores and statistics, visit thefuturesleague.com. If you are looking to live stream the regular season finale or the 2022 playoff games, go to fcblnetwork.com and purchase a game package today. You don't want to miss the best games of the season ahead!